Welcome to the
Oopsie Daisy
Blog Hop sponsored by
Club Scrap
. I'm glad you stopped by!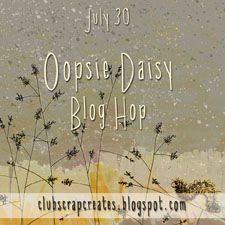 Follow these steps to create the card:
1. Trim a piece of Caramel Plain to 5.5x8.5". Score horizontally at 2.25 and 6.25". Place the short edge of the paper onto the board; punch the left edge. Note: My paper is not yet scored. Ignore that.
2. Slide the paper to the left and punch at 3".
3. Rotate the paper 180 degrees and punch the other short edge in the same manner.
4. Use a craft knife, ruler and cutting mat to trim away the remaining outside edges of the paper flush with the deepest point of the punched area to create a 3" tab.
5. Use the corner rounder punch on the top of the board to round the newly-formed square corner on each outside edge.
6. Trim two 2x5.25" strips from the
12x12 White Print
. Place each strip horizontally into the punch board and punch the left corner.
7. Slide the strip to the left and punch at 2-7/8". (Not at 3", as with the card base.)
8. Trim away the remaining outside edges to create the tabs and round the corners.
9. Fold the card base on the score lines to create a gate fold, and nest the decorative papers onto the panels.
10. Use a circle punch or dies to create nested circles. I used the circular stamp from the Oopsie Daisy
UM Borders & Backgrounds
to decorate the smallest circle before die cutting. Top with a Caramel punched daisy.
11. Trim a .75x12" strip of Charcoal Plain. Wrap around the card somewhat loosely and secure the ends with adhesive.
12. Top the band with the nested circles.
13. Nest a 3.75x5.25 Eggshell panel to the inside of the card; stamp with a greeting and embellish with a punched daisy.
14. Slide the band onto the card and send it over to Kay's studio to pose for a photo shoot. (Thanks, Kay!)
Don't you think this is the happiest card?
The fun is just getting started . . . Hetty's blog at
Craft Chaos
is your next stop! If you'd like to go to the beginning of the hop, visit
Club Scrap Creates
.
Tricia